Napa Valley is an outdoor lover's paradise known far and wide for its sweeping green topography, award-winning vineyards, and championship golf courses. Indeed, Napa Valley real estate is among the most coveted grounds for golf enthusiasts. The weather is temperate and sunny for the majority of the year, making the bucolic hillsides the perfect terrain for the sport. Long days strolling the famed courses that professionals and novices alike hold in esteem are not a pipe dream but a reality for owners of Napa Valley properties. Whether you are on the hunt for Napa Valley real estate or looking to visit Napa's verdant fields for fun, here are seven of the golf courses you absolutely can't miss in the Napa Valley.
Chardonnay Golf Club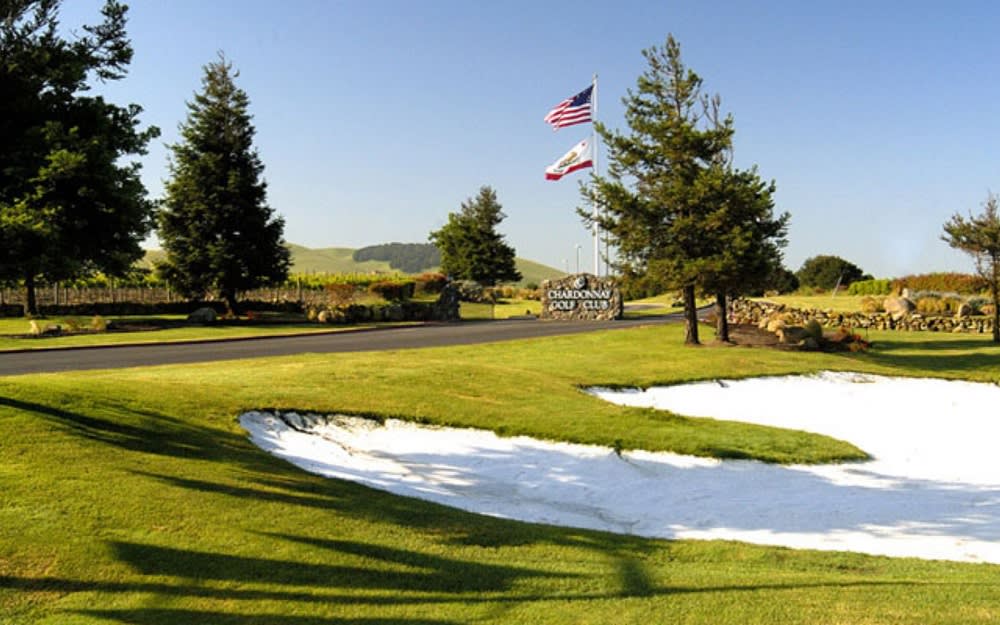 While many golf courses in the area are so beloved that Napa Valley properties are commonly built alongside them, the view at
Chardonnay Golf Club
remains unobstructed. Even if there were no golf course present, strolling through the sun-soaked grapes of the vineyard at the club and viewing the hills covered in foliage would be a treat. Luckily, visitors get to do both at the same time. Alongside the lattices covered in grapevines, much of the land that lines the course is filled with untouched plant life and wildlife that visitors can see as they walk from hole to hole. Guests can enjoy the premises when they are done with their game at its dining room,
The View Bar and Grill
. This aptly-named eatery is clad with massive windows that look out over the Napa River Estuary and the Southern Mayacamas Mountain range.
Eagle Vines Vineyard and Golf Club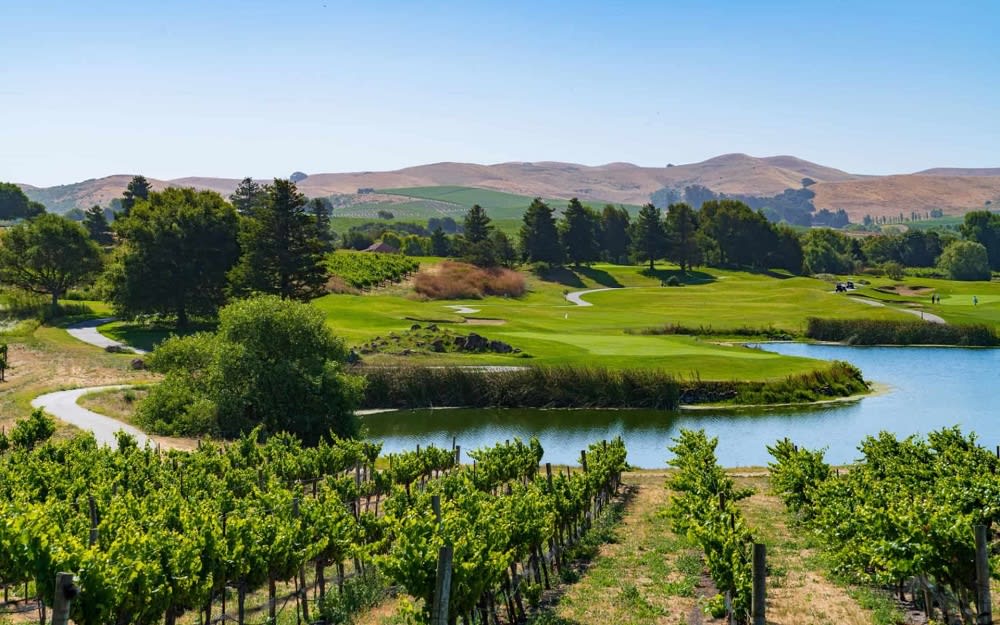 Eagle Vines Golf Club
is an award-winning course designed by Johnny Miller, a name familiar amongst golfers as a member of the World Golf Hall of Fame and former title-holder of PGA Player of the Year. The 18-hole course provides a welcome challenge and a beautiful setting with sparkling lakes and immaculate greens. The course's signature is the towering oak trees that grow alongside it. Eagle Vines is open to the public, so anyone visiting can make a reservation without a club membership, and it stands as a popular wedding venue. The on-site restaurant,
The Grill at Eagle Vines
, features a menu that is just as delicately orchestrated as the golf course. Breakfast and lunch classics are served as well as Eagle Vines' own reserved wine label. Their homegrown Chardonnay, Cabernet Sauvignon, and Sauvignon Blanc are available for purchase there as well.
Hiddenbrooke Golf Course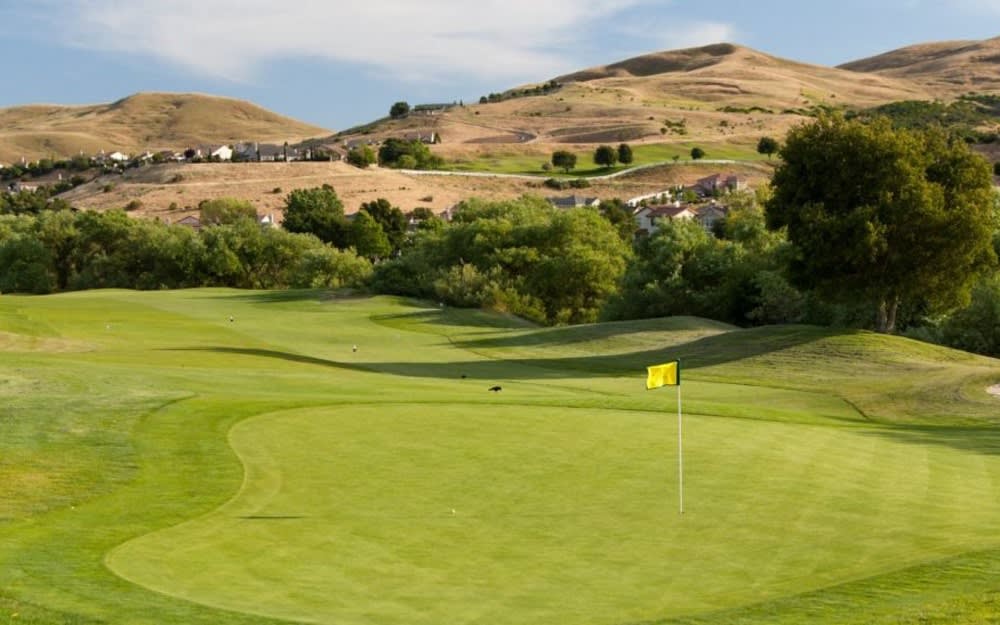 Photo Courtesy of Troon Golf
Hiddenbrooke Golf Course
is a great spot for day-trippers from the San Francisco Bay Area. Not only is it an easy commute, but the Arnold Palmer-designed 18-hole course is also ideal for players looking to sharpen their game. Golf Digest rates Hiddenbrooke an impressive 4.5 stars out of 5, so you know you're getting a professional experience before you even arrive. Hiddenbrooke also has practice areas for players to challenge their game at different elevations and perfect their swings on the driving range and chipping area. Memberships are not required to enjoy the course or the clubhouse. Their hospitality has everything you need to spend the day in the fresh air, including a restaurant to close the day's activity. The welcoming
Grille
has a cozy, pub-style atmosphere that allows guests to relax and watch a game after playing one.
Vintner's Golf Club
Vintner's Golf Club
is the best option for leisure golfers looking for an opportunity to unwind while they play. The nine-hole championship course has beautiful lakeside views at the base of the sweeping mountain ridges Napa Valley is known for. The golf shop has everything visitors need as well as a pro staff that can help with outfitting and training. The trainers have more than two decades of experience and can polish your play with ease.
The Lakeside Grill
serves breakfast and lunch, putting an emphasis on the ingredients and flavors that are the signature of Napa Valley. The sprawling patio sits on the edge of their sparkling lake, making for the perfect scene to enjoy a cocktail and soak in the sun. Vintner's Golf Club will leave you feeling refreshed and relaxed, having savored the best Napa Valley has to offer.
Silverado Golf Course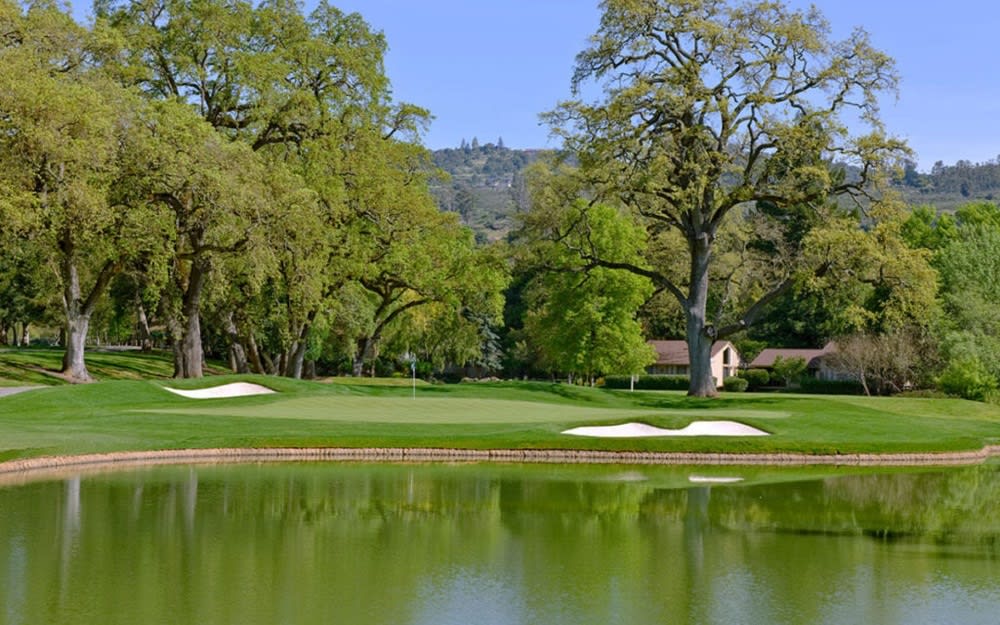 Photo Courtesy of The First Call
The Silverado Golf Course and Resort
is the ultimate Napa Valley getaway. Silverado is the home to the
Fortinet Championship
, a beloved PGA Tour event that professionals and fans flock to. The championship home is without a doubt a reflection of the level of quality the two courses showcase. Both courses are 18-hole runs with beautiful scenery on the course and beyond. Non-golfers can join their families and friends with ease at Silverado's luxury accommodations and facilities. Meanwhile, people looking to get active without golf clubs can make use of the immaculate tennis courts and corresponding pro lessons. For those who want to kick back instead, the spa at Silverado provides a pampering experience with tree-lined views, healthy cuisine, and renowned aestheticians. As well as a formal dining room, Silverado features a market and bakery on-site where you can pick up fresh-baked treats, artisan snacks, and wines. Guests can stock up on Napa Valley delicacies to take back to their rooms. The rooms have a modern refinement that's both comfortable and visually appealing. Cottage-style villas with full kitchens and private patios are available as well as traditional suites.
Napa Valley Country Club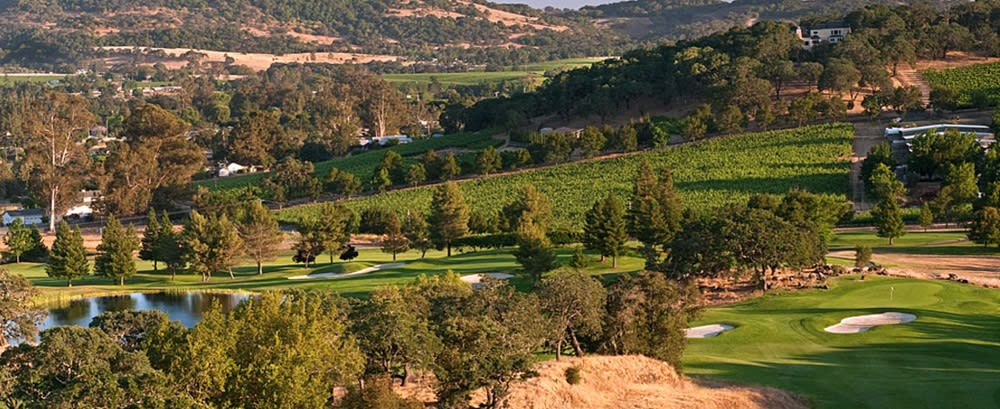 Napa Valley Country Club
bills itself as "the only private golf club in the Napa Valley," and it is clear that membership has its privileges. Nestled among the club's 181 rolling acres, the par-72, 18-hole golf course is USGA-certified. The golf course dates back to 1915 and has been expanded and modernized over the years. In the 1990s,
the course grew
from nine to 18 holes in a build-out led by architect Ronald Fream. The course now offers sweeping views of both the Napa Valley and San Francisco Bay, with the Sutro Tower visible from the 12th hole on a clear day. The club offers a modern clubhouse to relax in, electric golf carts, a pro shop, and golf lessons and clinics.
Napa Golf Course at Kennedy Park
The Napa Golf Course at Kennedy Park
is an 18-hole championship course set inside Kennedy Park, the verdant green space next to the Napa River. The picturesque course offers practice facilities that include a large putting green, a chipping green, and 22 stalls for individual driving. A clubhouse on-site stocks essentials and PGA pros offer lessons to golfers of all levels. The course caters to a diverse population of golfers, and
a ladies' group
meets twice a week. Napa Golf Course's scenic grounds are rented out for
events like weddings
. The
taproom
offers brews and bites for golfers who have worked up an appetite.
Those seeking a great vacation or a trip to survey
Napa Valley properties
can fit in a quick game, a full weekend, or simply a relaxing stay at any of these world-class establishments. If you're looking for guidance on Napa Valley real estate while you're here, feel free to reach out to
Yvonne Rich
.