Winter is the perfect season to plan an excursion, whether it be a weekend getaway or something much longer. This holds especially true for the folks living in sub-zero temperatures, with the snow accumulating more each day. Even if you live in a warmer climate and are not escaping cabin fever, winter travel has many perks.
Napa Valley
is known worldwide for its wine and beautiful vineyards. Experiencing Napa Valley in the winter gives locals and visitors a new perspective on this spectacular valley. Fewer people visiting create the opportunity for solitude and individual experiences you may not get during the crowded summer and fall months. Nature is openly available to inhale and explore, and there isn't any snow!
Reasons to Visit Napa in the Winter
Fewer people
People often think of winter travel as somewhere exotic and warm. An island in the Caribbean, Cabo, or Costa Rica is the go-to option for most people. While sitting on a crowded beach with a drink in hand has the makings of a song, there are other great options for winter travel that are often overlooked when planning a trip. Locals with Napa, CA real estate embrace the change in weather and the slower pace of life. The climate is mild — not as warm as the beach, but mild, nonetheless. You may not see as much sun as you would on the beach, but the experience will be worth the loss of the extra Vitamin D. In Napa Valley, you will still get plenty of sunshine, but be prepared for a few drizzly days. The light rain helps to create a cozy feeling that goes perfectly with a roaring fire and tasty wine.
Thinning crowds in Napa Valley creates opportunities for those that take advantage of visiting during the off-season. Wineries have more flexibility with appointments, and sometimes you can even walk in and get a tasting. Snagging a reservation at the perfect restaurant may be simpler, and hotels will be much less expensive — which means you can spend the savings on spa services or souvenirs. Additionally, navigating the valley will be much simpler with fewer people.
Fireside Cabernets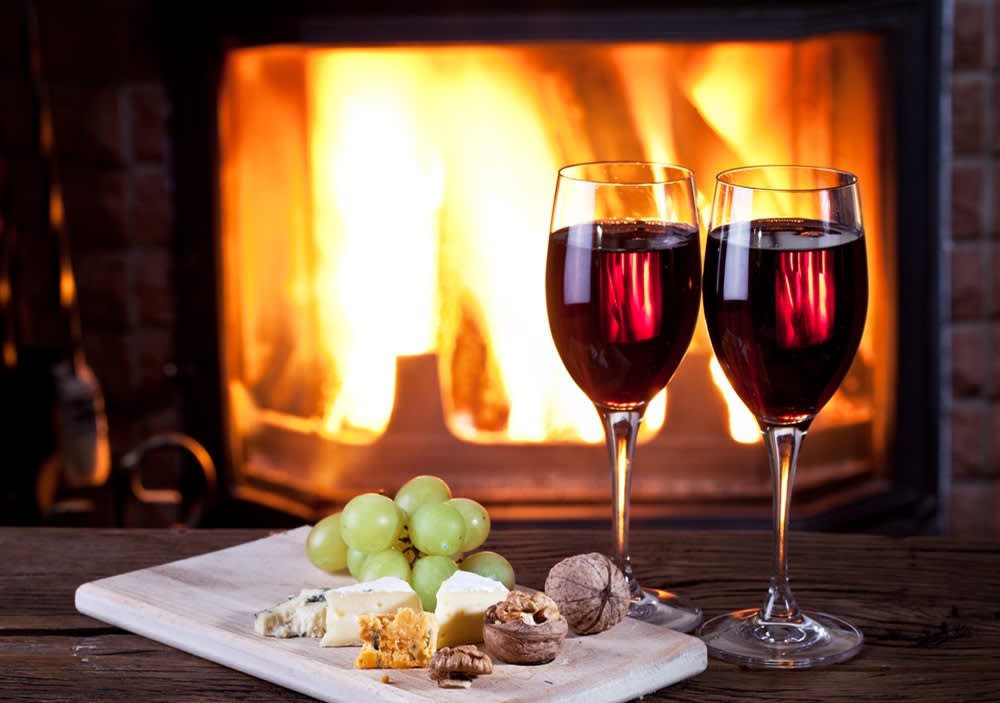 Lower temperatures create a feeling of coziness that is just plain comfortable. Wearing one of your favorite sweaters — preferably a soft cashmere — and sipping a nice Cabernet by a fire is perfectly delightful and romantic. Tasting rooms with crackling wood-burning fireplaces and beautiful, big bars set the scene. Imagine deep leather lounge chairs and a few of your best friends creating memories that will last a lifetime. Or, for couples, the cozy feeling oozes romance and makes for a very special retreat.
Winter is famously known as the Cabernet Season in Napa Valley. This is the time after the grapes have been harvested and the region slows down, creating an intimate atmosphere that will allow you to have a more personal experience with the region and its wines. Tasting rooms may offer additional services or wines they could not offer during their busy time.
Restaurant Week
Many cities host a restaurant week as a way of showcasing their restaurant scene to locals and visitors. During this special time, selections deliver everything the talented chefs of the region have to offer. Sushi, paella, burgers, tacos, and soups are small representations of the food you can experience during restaurant week.
Napa Valley Restaurant Week
will delight locals and visitors from lunch through dinner.
Great Hiking
The nature surrounding Napa Valley is strikingly beautiful. Outdoor activities are readily available and should not be missed. Much of the area is designated as an
agricultural preserve
that protects the land from urban development and maintains the land's primary use as agriculture. The natural beauty of the valley will not be impacted by development, making it a fabulous area for outdoor excursions. There are lakes, waterfalls, and miles of trails to explore. Parks and trails are less traveled during the winter season, making it a perfect time to get out and immerse yourself in the peacefulness of nature.
Bothe-Napa State Park
offers overnight stays in historic cabins and yurts. The park website encourages you to bring wine and cheese for a picnic while hiking through their amazing trails.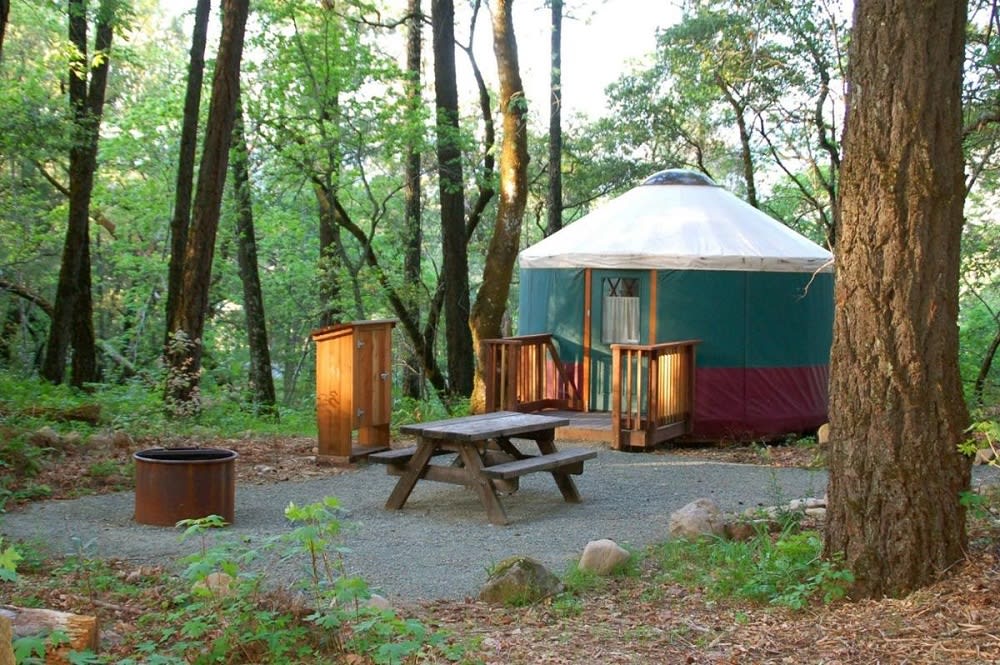 Skyline Wilderness Park
is in the foothills of Napa Valley and offers miles of multi-use trails for hikers, equestrians, and mountain bikers. Trails offer peaceful hikes surrounded by waterfalls and towering trees. The park has a twenty-five-acre archery area, picnic tables, an 18-hole disc golf course, and fishing opportunities.
Westwood Hills Park
is a Napa city park. Heavily wooded surroundings and grassy meadows grace the three miles of trails within the park. Picnic tables and benches are available along the trail if you would like to take a break and enjoy the views.
The Fields Are Glowing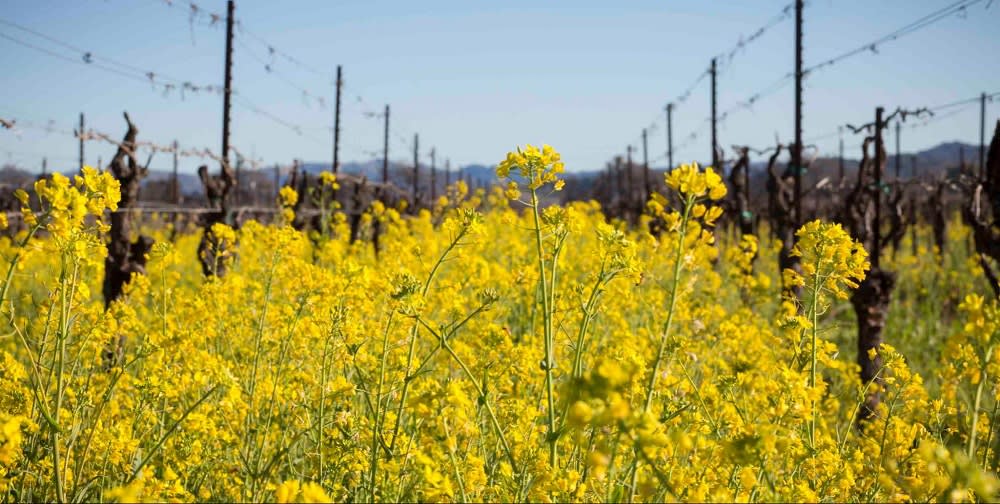 Blooming mustard plants shine across the vineyards during the winter in Napa Valley and provide a pleasing backdrop, creating a great time for those interested in Napa Valley properties to visit. These plants assist with growing the grapevines as they place nutrients into the soil. Photographs cannot describe the beauty of the glowing fields, which provide acres and acres of yellow flowers intermixed with the established grapevines. When the mustard has completed its blooming cycle, the buds fall back into the earth and add valuable nutrients to the soil.
Spa Rejuvenation
Wine tastings are simply a wonderful experience, but partaking in a few too many tastings may have you craving some quiet time. Massages, facials, wellness therapies, and mineral baths are at your fingertips while visiting the Napa Valley. Options range from day spas to resorts and personalized services. Many Napa Valley properties have spectacular views and outdoor spaces, offering a relaxing environment for a mobile massage therapist visit to your home.
Looking for Napa, CA real estate?
Napa Valley is spectacular all year round, but winter gives visitors time to explore the region and develop a deeper understanding of its charm with fewer crowds and a more personalized experience. Enjoy Cabernet season while exploring Napa Valley properties when you work with
Yvonne Rich
.