Stunning Stays You Won't Want to Leave.
Napa Valley's breathtaking beauty is unlike anywhere else in the country, and this stunning wine country is home to a plethora of outstanding resorts. Here are six Napa Valley resorts to consider whether you're craving a weekend getaway or planning a staycation.
In Napa, the Silverado Resort and Spa is a chic, modern accommodation that's located near many of Napa's entertainment venues, such as the Napa Valley Opera House, and is less than a mile from the
William Hill Estate Winery
. With rooms, suites, and cottages available for rent, you're able to customize your experience at Silverado Resort and Spa to suit your preferences. The Mansion Estates rooms and suites are centrally located, rooms at The Grove provide quick access to the resort's two championship golf courses, and a cottage along Cottage Drive keeps guests within walking distance of the tennis courts and swimming pools. The gated Oak Creek community at the resort is very private and exclusive, and it provides the most spacious rooms on the property.
The Salon and Spa at Silverado Resort offers a range of services, from massages to personalized facials, in over 16,000 square feet with 16 individual treatment rooms. Golfing at Silverado Resort is reserved for guests and members, which ensures a pristine experience on finely manicured greens. Whether you're a beginner or a scratch golfer, you're welcome here. Practice your swing at Johnny Miller Golf Academy, or try your hand at either of their par 72 courses. The resort also has full-sized tennis courts and hosts a variety of fitness classes. Once you've worked up an appetite, enjoy a bite to eat at Forno at Silverado. Only open on Fridays and Saturdays, this pizza oven will quickly become a family favorite. If you prefer to eat alone, order room service, which is available daily between noon and 8 P.M.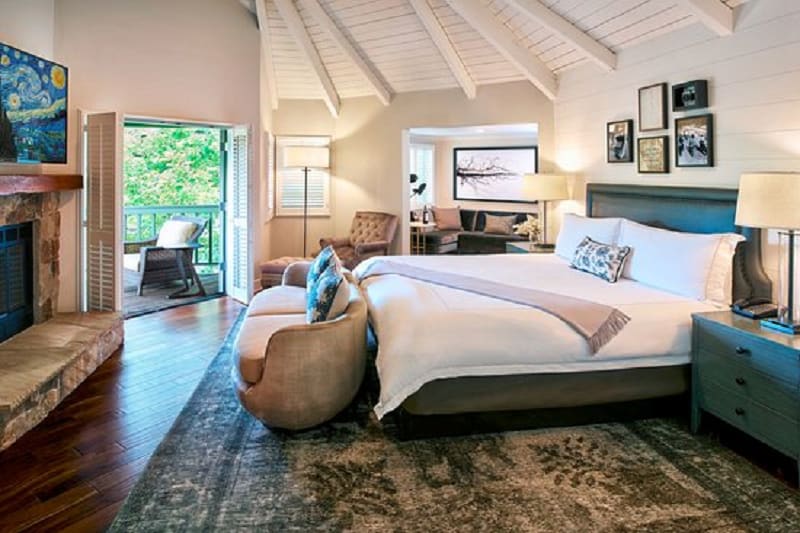 Credit: Tripadvisor
Located in Yountville, this elegant and inviting 5-star hotel is an opulent wine country destination. Vintage House at the Estate is part of The Estate Yountville, an iconic self-contained village with immaculate amenities and a legacy of luxury. Blending rustic comforts and contemporary stylings, Vintage House boasts premium rooms, suites, and private bungalows. Each room comes equipped with a patio or balcony as well as a wood-burning fireplace and plush bathrobes for optimum comfort. The most lavish accommodation on property is The Village at The Estate. This private residence spans 6,600 square feet and features five bedrooms, 20-foot ceilings, and a multitude of exclusive amenities and complementary experiences, including private yoga, daily chef breakfast, and an afternoon of sabering.
Vintage House guests stay within close proximity to a myriad of fine dining opportunities in Yountville, and the nearest is
Perry Lang's
. Situated on the site of The Estate, Perry Lang's Californian approach to a chophouse is both hearty and refreshing. The Spa at The Estate offers a multitude of treatment options and touts additional amenities such as steam rooms, outdoor soaking baths, and saunas. Massages and facials are often tailored to suit your specific needs, and you'll be able to breathe restfully and rejuvenate with this individualized holistic care.
When you're in Napa, you'll want to immerse yourself in the panoramic scenery. That's why Carneros Resort and Spa is so special. Situated on 27 acres, this wine country resort is surrounded by beautiful vineyards and sweeping countryside vistas. Carneros Resort offers a variety of accommodations to suit your traveling style, whether you're traveling as a couple or with friends or family. The standalone private cottages are arranged in a community with enclosed patio decks and gardens so that you can enjoy tranquil privacy without feeling disconnected. Two cottage suites are ideal for families traveling together — these adjoining private cottages provide individual living spaces connected with a central yard for congregating.

For additional privacy and luxury, consider one of the Carneros Residences. With two main bedrooms, these homes provide all the luxuries of home in Napa's breathtaking landscape. However, if you crave the ultimate guest experience, Carneros Resort also hosts a number of private vacation homes with gated entry, two and three-bedroom layouts, and 3,800 square feet of combined indoor and outdoor living space.

For Carneros Resort guests, rejuvenation is often high on the agenda. Luckily, the Spa at Carneros is a guest-only experience that prioritizes individual care for a truly luxurious treatment. To feel your best, pair your spa treatment with a private yoga session at the fitness center or relax in the adult-only pool. Meanwhile, the family and fitness pool is an excellent place to cool off in the summertime for families with children.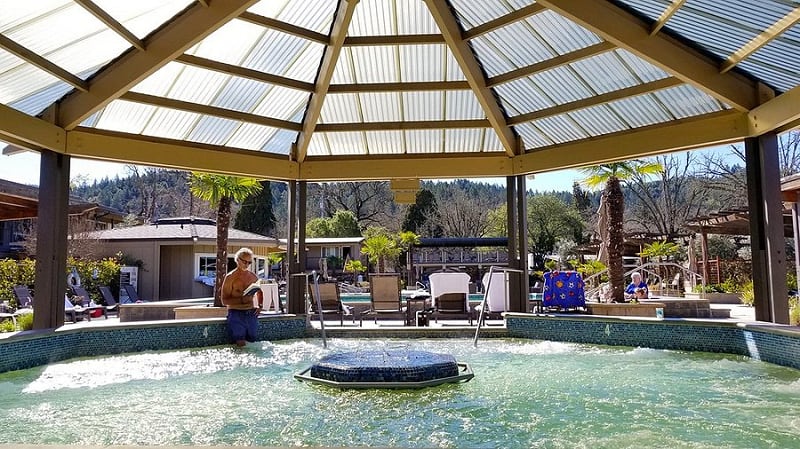 Credit: Tripadvisor
Thermal mineral waters are one of Up Valley's most beloved natural resources, and geological features like the Old Faithful Geyser of California have proven to be one of the major draws in Calistoga for their restorative properties and stunning displays of natural beauty. Situated at the base of Mount St. Helena, Calistoga Spa Hot Springs is a stunning hotel located near central Calistoga that celebrates relaxation. Because the hot springs can be enjoyed all during all four seasons, this resort is an excellent option all year long. Simple and sleek, Calistoga Spa Hot Springs is home to numerous rooms and suites with a casual contemporary vibe.

The recently remodeled Spa Calistoga provides guests with the highest service available, and they offer customizable pampering sessions that utilize the area's natural resources, such as the volcanic ash mud baths. However, this resort's biggest draw is its four geothermal mineral pools. While some pools may get as hot as 104 degrees Fahrenheit, the 80-degree multi-lane lap pool is an excellent option for guests of all ages and heat tolerances.
The five-star Auberge du Soleil is a French-inspired resort that provides an exclusive, adults-only experience for its guests. Revered for its impeccable service, exquisite culinary roots, and unbeatable wine country views, Auberge du Soleil has defined luxury in Napa Valley since opening its doors in 1981. This getaway destination is one of many Auberge Resorts, and they have a reputation for exemplary accommodations and top-tier amenities. Stay in a room, suite, or one of their elegant standalone private Maisons.

Before Auberge du Soleil became the sweeping resort we know today, its name was associated with stunning cuisine that put wine country on the map. Today, it retains its legacy as a culinary stronghold in the community, known for its daring flavors and elegant presentation. Auberge du Soleil has been awarded a Michelin Star for thirteen consecutive years, proving its decadence and devotion to fine dining. Additionally, the resort is home to a tranquil spa that offers a variety of treatments for singles and couples. The 24-hour fitness center makes it simple to stay engaged with your fitness routine so that you can feel your best while enjoying your relaxing retreat to Napa Valley.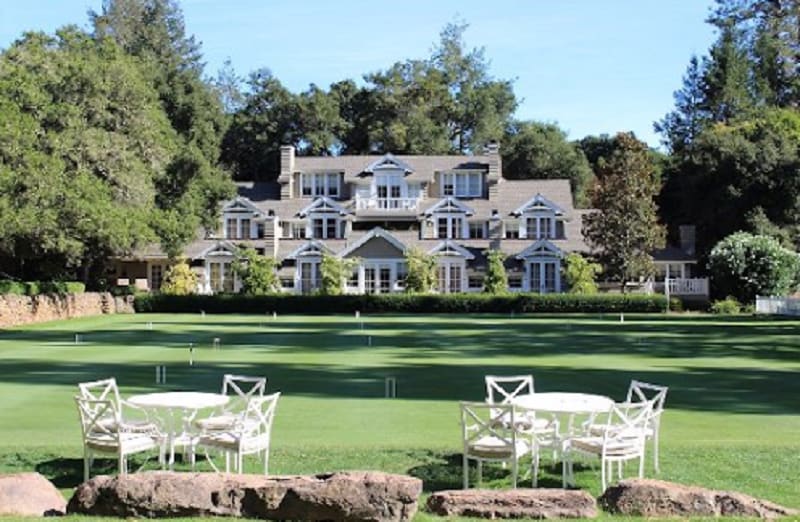 Credit: Tripadvisor
Tucked inside some of St. Helena's most stunning vineyards, Meadowood Napa Valley is a 5-star resort that exudes tranquility. With a variety of rooms and suites, Meadowood happily accommodates groups of all sizes, and the community of walkable amenities keeps guests connected while providing ample privacy. The luxurious Hill House is a private guest suite situated away from the other rooms for optimal seclusion and nearly 1,800 square feet of indoor-outdoor living space.
When staying at Meadowood, guests won't have to worry about parking or fret over resort fees. Guests receive free bike rentals and can book tennis court time and rent equipment. Meadowood's knowledgeable fitness instructors host daily fitness classes, such as dance cardio, strength training, and yoga, so you can stay active during your stay. Plus, guests have access to Meadowood's private hiking trails for a welcome breath of fresh air amidst Napa Valley's gorgeous countryside.
The Restaurant at Meadowood
has been awarded three Michelin Stars and is dedicated to using locally sourced ingredients to support nearby artisans. With access to a 3.5-acre culinary farm, The Restaurant is able to grow and forage its own seasonally appropriate crops to ensure the freshest produce. You'll want to make sure you make a reservation at this high-profile restaurant so that your table is ready for you when you arrive.
Fabulous Napa Valley is home to some of the country's most luxurious resorts. If you'd like to learn more about Napa Valley real estate or Sonoma Valley luxury real estate,
Contact me
today for more information. When you live in paradise, you won't need to take a vacation.